Show Schedule
---
Friday, February 17
7:00 p.m.
Saturday, February 18
7:00 p.m.
Sunday, February 19
4:00 p.m.
Friday, February 24
7:00 p.m.
Saturday, February 25
7:00 p.m.
Sunday, February 26
4:00 p.m.
Cast
---
Detective Sergeant Trotter
Thomas Finney
Mr. Ralston
Mike Krcil
Mrs. Ralston
Alyssa Schultz
Mr. Paravincini
Keith Wilson
Miss Casewell
Samantha Fletcher
Christopher Wren
Luke Peterson
Major Metcalf
Mark Anderson
Mrs. Boyle
Ginny Racette
Crew
---
Co-Director
Joe-Michael Jackson
Co-Director
Ginny Racette
Producer
Julie Staley
February 17-19 & 24-26, 2023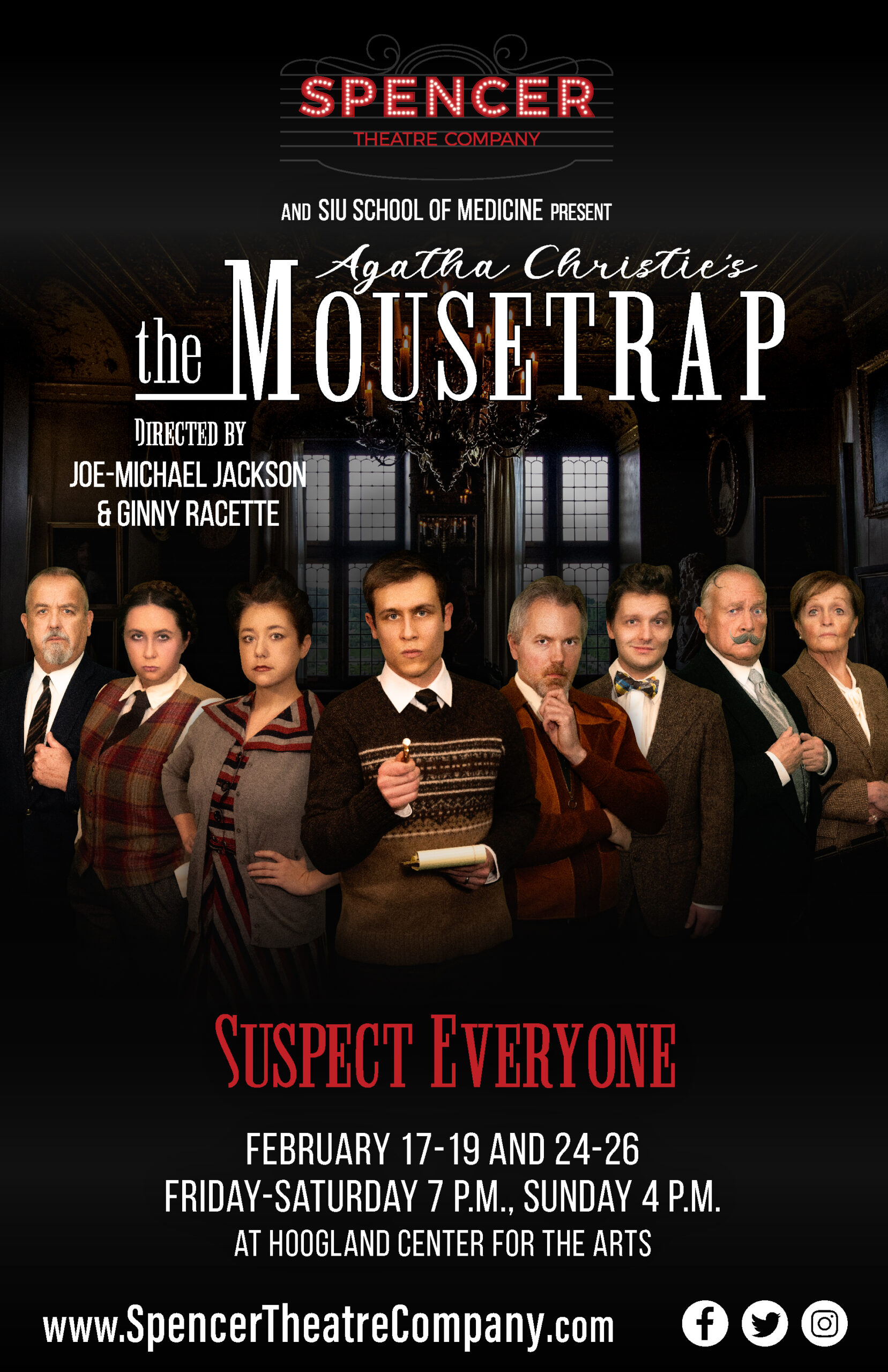 Written by
---
Agatha Christie
Directed by
---
Joe-Michael Jackson & Ginny Racette
Produced by
---
Julie Staley
About
---
This thrilling West End production is THE genre-defining murder mystery from the best-selling novelist of all time… case closed!
As news spreads of a murder in London, a group of seven strangers find themselves snowed in at a remote countryside guesthouse. When a police sergeant arrives, the guests discover – to their horror – that a killer is in their midst! One by one, the suspicious characters reveal their sordid pasts. Which one is the murderer? Who will be their next victim? Can you solve this world-famous mystery for yourself?
For almost 70 years, AGATHA CHRISTIE'S "THE MOUSETRAP" has kept millions of people from every corner of the globe on the edge of their seats. Spencer Theatre Company is proud to present this production at the Hoogland Center for the Arts.

The Hoogland Center for the Arts
420 South Sixth Street,
Springfield, Illinois 62701


Spencer on Stage
View photos from our recent performances!